The Miracle of My Life
20 Sep 2019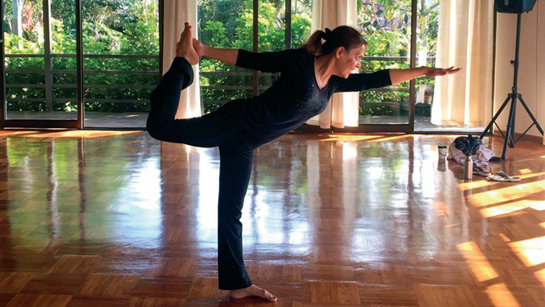 At the age of 12, I became a vegetarian and during my entire life I have been active, eaten a healthy diet, exercised, and stayed fit. I was full of energy, motivated, ambitious, and always on the go. I led a very busy life and had too much on my plate. I found little time to relax or take a vacation. I did not pay too much attention to the overwhelming stress in my life. I raised two kids mostly by myself, had a stressful career in IT, and had gone back to school. There is no doubt that I spread myself too thin and, at some point, it all became too much. In my 30s, I developed a syndrome called adrenal fatigue where the level of cortisol (the stress hormone) is low and the adrenal gland functions below the necessary level. Adrenal fatigue is accompanied by symptoms of extreme fatigue and exhaustion that do not improve with sleep. I was treated by a doctor, but it wasn't too helpful.
Regardless of the fact that I ate a vegetarian diet and was fit, the constant stress I experienced over a prolonged time eventually took a toll on my body. In my early 40s, I was totally burned out and was diagnosed with postural orthostatic tachycardia syndrome, or POTS. This is a condition in which the heart rate is elevated significantly upon standing, and the blood pressure is elevated along with symptoms such as dizziness, lightheadedness, and chronic insomnia. I was bedridden for a long time and needed to use a wheelchair to get around. I was given seven different medications to treat the symptoms, and the medications not only did not help but exacerbated the situation.
Traditional medicine doctors led me to believe I would never be able to stand or walk again and would have to take these medications for the rest of my life. I thought, "No way! This is not what I consider a solution!" Therefore, I decided to look for holistic medicine and consulted a naturopathic doctor. He advised me that the root cause of this syndrome was excessive stress and instructed me to stop all medications immediately. He prescribed both homeopathic remedies and herbal medicines, and within one week of follow-ing his treatment plan, I was able to stand for long periods and walk again.
Although I was on my way to recovery, I had not yet reached optimal health. I then discovered Hippocrates Wellness and decided to take part in its three-week life transformation program. When I arrived at the Institute, there was a feeling of community and the staff  was welcoming and accommodating. They were also knowledgeable and supportive. They addressed mind, body, and spirit to educate and treat the complete individual. There also was a deep sharing and open-ness among the guests, with whom I made lifelong friends. Transitioning from a vegetarian to the raw vegan diet was fairly easy for me. In addition to drinking wheatgrass and green juices, I participated in various cutting-edge therapies. The healing required a lot of patience, strength, and commitment, but I was beyond letting anything stand in the way of regaining my health.
I was ready to do whatever it took. The amazing results I obtained after participating in the three-week program at the Institute certainly indicated that all the conventional medical doctors I had consulted were wrong. To this day, I still follow a raw vegan lifestyle as well as a gluten-free diet and I feel at least 20 years younger. I recently wrote and published a book titled, "The (Formerly) Stressed Vegan — Ultimate Guide to Optimal Health — Beat Stress-Related Diseases Naturally." I share my healing journey from adrenal fatigue and POTS to optimal health. The purpose of the book is to share my knowledge and views on healthful living based on my lifelong research as well as my personal experience. The book details the changes I applied to my lifestyle to get my body back in balance, elaborating on how all aspects of health (mind, body, spirit) are inter-connected with one another and are necessary to reach optimal health.
I review and summarize healthy diet types, focusing on the raw vegan diet and explaining its benefits. I also discuss various exercises and which one is beneficial to your body type. I recommend which foods to consume, which nutritional supplements to take, and how to maximize their absorption. I describe the benefits of detox in order to keep your body functioning at an optimal level. I also discuss the benefits and drawbacks of the various holistic healing modalities versus conventional medicine techniques, touching on diagnostic tools as well as treatments. One of the main messages of the book is how stress plays a critical role in our health and how to keep its detrimental effect on our health to a minimum. I talk about how to prevent illness and maintain our health and, most importantly, how we can be our own doctor if we listen to our body's signals.
Since my recovery, I also established an online resource center called Top Notch Holistic to assist individuals in finding the latest information about health and locating holistic practitioners, restaurants, retreats, yoga centers, and more to empower them to heal themselves and reach optimal health. I am so grateful for taking part in the amazing program at Hippocrates that transformed my life and helped me reach optimal health. I am blessed that because of these marked changes, the condition was temporary. Without Hippocrates' help and guidance, I don't believe I would be here today to tell my story.
By Taly Cotler