Getting Started With a Raw Vegan Diet – An Interview with Ken Blue, Executive Chef
7 Nov 2022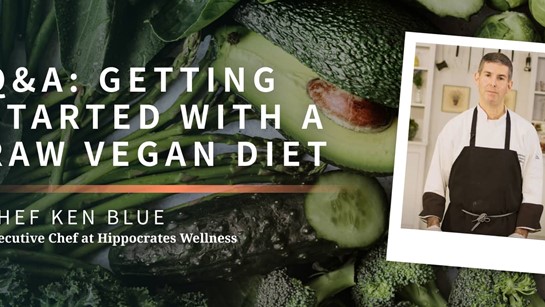 As the Executive Chef at Hippocrates Wellness since 2005, Ken Blue is well-versed in raw vegan cuisine. He is committed to not only providing delicious healthy food but to teaching others how to do the same. Thousands have benefited from his weekly kitchen class as well as his weekly qigong class. Being a Doctor of Medical Qigong in China, Ken brings energy awareness to every dish he prepares. Through this unique and experienced background, he continues to inspire people worldwide to live in their natural state of health.
An Interview With Ken Blue
Q: Do you recommend a gradual transition to a raw vegan diet, or is it more effective to eliminate all foods outside of this diet right from the start?
A: I recommend setting a date to start living the raw vegan lifestyle. It could be a month away, but that could be your gentle transition time. However, from that date forward, you become a raw vegan and remain committed to that lifestyle. To support your commitment, you could go to a place like Hippocrates Wellness or surround yourself with supportive people. After 21 days, it has been shown that you ingrain new habits, and your taste will have changed during that time. If you mentally start craving something, you may find that it doesn't have the same appeal if you look at it or smell it. Also, you should feel the physical rewards of greater vitality, energy, and clarity of thought which further reinforce your commitment to this lifestyle.
Q: What common mistakes and challenges do beginners to the raw vegan diet face?
A: One of the challenges is that people who know you from before your transition try to pull you back into your old lifestyle because it may have been a common ground of shared experience. That can be friends and/or family members. A common mistake people make is to claim they will be 100% raw and don't leave themselves any room for flexibility. If you say you will be mostly raw, that gives you an opportunity to indulge in a bit of cooked food. Another important thing to consider is to keep variety in what you're eating.
Q: Should people expect to experience cravings, and how would you suggest they combat this?
A: Yes. People can experience cravings. Someone once told me that your body is craving what it is detoxing. Realize many of those cravings are purely emotional. Sometimes finding a vegan alternative can help you get through cravings even though it may be what is considered vegan junk food.
Q: How long do our bodies take to transition and reap the health benefits?
A: It is different for all of us. Some start to feel benefits right away. I felt more energy eating raw foods, and that was one of the things that inspired me to continue with it. In fact, a shot of wheatgrass felt like doing an entire set of qigong. Many people have symptoms that are relieved and/or disappear very quickly. Some take longer.
Q: Should people be concerned about creating dietary deficiencies when limiting food groups?
A: I believe in taking supplementation no matter what lifestyle you are living in this day and age. It's not even about vegan or non-vegan. It's about the quality of food and the freshness of what we are getting. Also, having a variety helps avoid deficiencies. The green juice and the wheatgrass are important parts of the Hippocrates lifestyle to help ensure superior nutrition and absorption.
Q: Are there options for celebratory food, or if people are looking to treat themselves with something sweet?
A: Of course. There are many options. So many of us have it established from our childhood that something sweet is celebratory. But what makes it that way is our attitude about it. It's almost as if we feel that something is rewarding but is that truly rewarding to our body? What makes a food celebratory is what we tell ourselves about it. There are many vegan indulgences, but it could just be a gathering with friends or family. It doesn't even have to be about food. It could be a food you associate with a holiday or a memory. It could be a food that is rarely eaten due to availability or cost. If it's a food, you rarely eat because you feel it's not good for you or you don't feel good after eating it, then is that a treat? Is that a way to celebrate?
Q: How would you describe people's response to the food at Hippocrates? Can you share a memorable health transformation?
A: People's responses to food at Hippocrates cover every possible reaction. Some people celebrate the great selection of healthy food. Others feel there is nothing good to eat and wonder why there is so much repetition. Some react to the way they feel afterward. Over the years, I've seen many people heal themselves here at Hippocrates Wellness or return healthy after sticking with the lifestyle. Sadly, sometimes people come back and say they didn't stick with the program and that their health challenges returned. Some of the transformations I've seen are an adult in a wheelchair who couldn't keep his head up, and yet, after three weeks, he stood up and walked to the front of the room at graduation and talked. We've had children here with brain challenges who were in wheelchairs and came around to be alert. People have come back after so many years and said you saved my life, and I say no, you changed your life. We had someone with a tumor on his neck, which shrunk considerably while he was here, and when he came back, it was gone. I could go on and on with these stories. There was a woman who said, "I came in with a diagnosis (terminal cancer) and left with hope." She returned a couple of years later with her husband to show him where her miracles had started.
To learn more about the Hippocrates Wellness lifestyle and diet, and take your first steps onto the path of vibrant health and wellbeing, book your free 30-minute consultation now.