DIY: Garden Box Beds
25 Jul 2019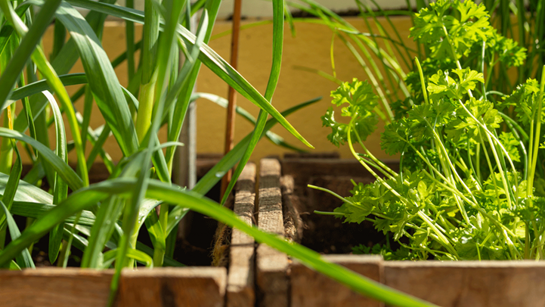 Garden box beds are great for growing small plots of vegetables of all types. They offer several advantages over conventional direct sowing in the soil:
Box beds provide a clearly defined barrier to the incursion of weeds and crawling insects such as snails and slugs.
They prevent soil compaction by providing convenient pathways around your garden plots.
Your garden soil will be better drained since the bed is raised above ground level.
Box beds reduce back strain since you will not have to stoop so low to tend to your garden.
With high walls they also can provide some limited protection from harsh sun and wind
To build a box bed you can purchase a kit or you can build your own from scratch. Use wood that is naturally rot and insect resistant such as cedar, redwood, or juniper. Here is how to build your own box bed with finished dimensions will be 2' wide by 10' long by 15" tall:
Materials List
4 – 2" X 8" X 12'
1 – 2" X 2" X 12'
40 - 3.5" #10 coated deck screws
Instructions:
Using a circular saw set to cut at a 45 degree angle, take 24" off of each of the 2" X 8" 's. This will leave you with 4 – 10' boards for the sides and 4 – 2' boards for the ends. Cutting at a 45 degree angle will allow you to create miter joints at the corners.
Secure the corners to create two boxes 2' wide by 10' long using deck screws as illustrated below. Pre-drill pilot holes so that the screws do not split the wood.
Stack one box on top of the other in a suitable location in the garden. Level as needed.
Cut the 2" X 2" into six 24" sections. Four will be used as corner posts and two will be used as center braces.
Bevel cut one end of each of the 2" X 2" 's to create stakes.
Drive a stakes into the ground at each of the four corners and midway on each of the two sides. Secure the stakes to the 2" X 8" 's using the deck screws. Pre-drill pilot holes so that the screws do not split the wood.
Fill the box bed to the top with a mix of 50% of your best garden soil, 25% compost and 25% peat moss. If there are rocks, the soil can be screened through a piece of 1/2" mesh. Add a few handfuls of soil amendments such as lime and rock dust as needed. Spray the soil with a fine spray, and top it off again because the water will lower the soil level a bit.
Your bed is now ready to plant!