Life Transformed – Battling Obesity & High Blood Pressure
14 Feb 2020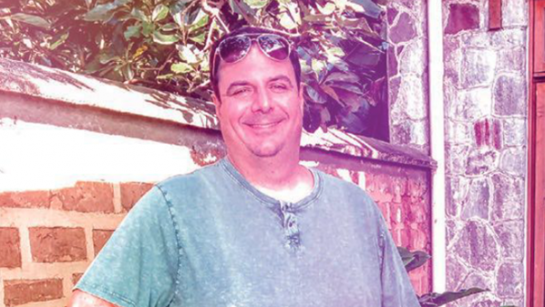 I was 340 pounds when I first went to Hippocrates. I was at my wits'  end. I didn't know where to get the help that I needed. I had tried every exercise program and diet out there. I was looking for a place I could go to and stay for a couple of weeks.
Basically, I was online looking for a fat camp. I was looking for a place to lose weight and get healthy, but everything I found on the computer was beautiful people running up mountains and running on beaches. I needed something for my health. I had a herniated disc, swollen legs and I needed a place that dealt with my medical issues. Then Hippocrates, by the grace of God, came up on my computer as a wellness center and Wellness. I took the first step and made the call. It suited everything that I needed. It had the doctors, nurses, therapies and the medical end of it.
The first time I was there, Hurricane Irma hit, and they took amazing care of all of us. We had to fly home earlier, but they called me back to continue the program. It was nice that they cared about me.
Hippocrates is a very, very special place with wonderful people, staff and guests.
My life transformed in many ways because of Hippocrates. I got my life back. I got healthy. I lost close to 50 pounds in a month. I'm now 270 pounds. I'm down 70 pounds and I owe it all to Hippocrates. I have another 50 pounds to go.
Everyone wants to know how I lost the weight. And it's very simple. I went to Hippocrates and I acquired a vegan lifestyle, which I have struggled with some at home. It can be difficult for beginners, but I tell people, give it a week and something good is going to happen. In Hippocrates' controlled environment, the (food) selection is beyond your wildest imagination. They have every kind of vegetation on that salad bar! But, if there's something that you're struggling with eating—if you want it chopped, if you want it steamed or if you want your vegetables done a certain way—they will do it for you. The kitchen staff is amazing.
I've had only positive experiences at Hippocrates. It has been a blessing in my life. The beautiful thing about Hippocrates is that I can always go back, and I do! I went back in September 2019 for a week, but I recommend the three-week Life Transformation Program if you really want to make a change. And I plan to be there in May and maybe before then. If you want to get healthy and you want to change your life and have tried everything else, just try Hippocrates. If you're a person on blood pressure medicine, you're (possibly) coming off blood pressure medicine. If you're like I was, taking two blood pressure medications for eight years, in just three weeks you may have to come off the medicine because your blood pressure is low.
My doctors are thrilled. They recommend Hippocrates to their patients, but some doctors don't because they push prescription drugs, and prescription drugs are a billion-dollar industry. Director, Brian Clement has the answer for success if you want to be healthy, happy and well.
I really have had a great rapport with the staff and guests. Amazing things happen at Hippocrates. It's not just about getting healthy, but if you're looking for a whole new life and to meet friends from around the world to take the time to sit and talk to, Hippocrates is that place. It's all about health and happiness.
Brian astonishes me every time he speaks. He's an amazing speaker. He speaks from the heart and he keeps it real. I just relate to him and I don't know if it's a New York thing, but he's an amazing guy.
I love the whole system. I love the pools, the weight room, the sauna, the mineral pool, just everything. I tell people about Hippocrates and say, "You got to go." I have bought my kids juicers. My 19-year-old daughter is into the program and she is juicing every day, and I'm still working on myself. As far as my family, Hippocrates gave me my life back and my kids got their father back. I just want to say, "Thank you" to Brian, Anna Maria and the staff . Hippocrates is amazing!