Live Your Healthiest Holiday Season
20 Nov 2019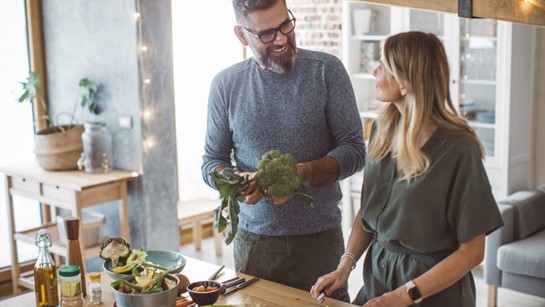 As we set aside some time during this Holiday season to be grateful for the many blessings in our lives let us not forget to give thanks for the greatest gift of all – the gift of family and friends! It occurs to me that the best thing we can do to enjoy the company of our cherished loved ones as long as possible into our lives is to do everything we can to insure our own good health and that of those who are closest to us. Here at Hippocrates Wellness we believe that good health is every person's birthright, and that a life free of disease and pain is our human legacy. However, the blessing of good health is more than just happenstance.
After many dozens of years of research we have definitively determined that the quality of your life and your health is completely within your control. We have scientifically validated and reconfirmed the power of consuming raw plant food and its phenomenally positive impact on human health. More often than not, disease is prevented and eliminated, and premature aging halted largely due to the raw, whole food, plant-based diet that we prescribe in our signature Life Transformation Program. But, apart from taking up permanent residence here at the "World's Premier Health Encounter" how can you best implement this lifestyle once you graduate from the program? 
Eating Healthy at Home
Here are some easy tips and suggestions to introduce your family to the power of raw, whole food, plant-based diet:
Clean out your kitchen of any animal products, junk food, processed food, soda, sweets, coffee, cooked food, candy, cookies. Pretty much anything that is in a can, bottle, box, bag, or jar that does not have to be refrigerated, has artificial preservatives added, and has a long expiration date should go.


If you do not already have them set up your kitchen with the right equipment including a high quality blender (I recommend the Vitamix), a high quality juicer (I recommend the Omega 900HD), a food processor, and a dehydrator.


Learn how to make delicious raw vegan recipes. You have to learn to love the food or it will not be sustainable to eat this way in the long term. We offer several excellent raw vegan recipe books in the Hippocrates store for your consideration. We also offer Saturday classes to outside visitors here at Hippocrates on gourmet raw vegan cuisine preparation. Our next class is on December 17, 2016.


Based upon the new raw vegan recipes you have just learned, stock up your refrigerator with fresh, whole, ripe, raw, organic produce, nuts, seeds, and herbs.


Make a big, fresh salad as the "main course" of every meal. Learn how to make delicious, healthy homemade salad dressings from one of our recipe books.


Learn how to grow your own sprouts at home! It is easy, economical, and fun! Kids love to get involved in sprouting. And, you are feeding yourself and your family the most nutritious food on the planet for under one dollar a pound! Sprout bags work great for growing sprouts while on the road. They fold up flat so they do not take up any space and there is no glass to break. You can grow sprouts in your hotel room by hanging your sprout bag up by the shower curtain. The Easy Sprouter comes with a flat lid with holes in it designed specifically for growing sprouts while travelling. This way your sprouts can still breathe with no danger of spilling. Add sprouts to every salad and use your sprouts for snacks. Sprouting is easy, does not cost much, and does not take a lot of space if it is done correctly. We offer an excellent sprouting book and DVD in the Hippocrates store for your consideration. We also offer Saturday classes to outside visitors here at Hippocrates on how you can easily grow sprouts at home. Our next class is on December 17, 2016.



Make a fresh green drink and wheatgrass juice and drink them every day.
Eating Healthy Outside the Home
With some prior planning you can still enjoy eating healthy outside the home while enjoying the company of your co-workers, friends and family. Here are some tips and suggestions to best achieve this goal:
Google raw vegan restaurants, health food stores and juice bars near your home, place of work, and travel destinations. Make these establishments your preferred choices for eating out. Most health food stores and grocery stores will offer salad bars where you can eat healthy. The web site HappyCow.com will list and rate healthy restaurants, juice bars, health food stores, and even vegetarian/vegan bed and breakfasts around the world.


Even conventional restaurants will almost always offer a garden salad as a side dish or as a starter. Sometimes I order two and make it a meal. Ask the waiter for additions such as avocado, red bell pepper, cucumber, onions, etc. to spruce it up. Ask for some lemon wedges, oregano flakes and some olive oil and make your own healthy dressing. I sometimes smuggle into the restaurant an avocado and a bag of home-grown sprouts that I can discreetly add to my salad.


Drink lots of water to help fill you up before you go out. Thirst is often mistaken for hunger. By drinking some water you may find you do not need to eat as much food in order to feel full.


When you are invited to a friend's house for a gathering prepare your favorite raw vegan dish ahead of time and take it with you to share with others. This way you will be assured that you will have something healthy to eat.


When traveling overnight and choosing accommodations, request a room with a kitchenette or at least a refrigerator. This will allow you to stop at a grocery store or health food store ahead of time and bring some fresh healthy whole foods back to the room with you to have later.



Finally, you may want to consider preparing and eating something healthy at home to at least partially fill you up before you go out.
For social support consider immersing yourself in the healthy eating world by attending raw vegan dinners and potlucks and "un-cooking" classes. If there are none in your area you can start hosting raw vegan potlucks at your home. Get involved in the local raw food community by joining raw food meetup groups in your area where you can make new friends. You can find such groups at meetup.com.
This Holiday season why not give yourself the gift of the best health ever by coming here to the Hippocrates Wellness and treating yourself to our world renowned Life Transformation Program? Your body will thank you and your friends and family will thank you, too. You will add many quality years to your life enabling you to have more fun and achieve more of your dreams. I wish every one of you a happy Holiday season and a long, healthy, productive, and fulfilling life.