Self-Healing Diet Book Launch!
6 Mar 2023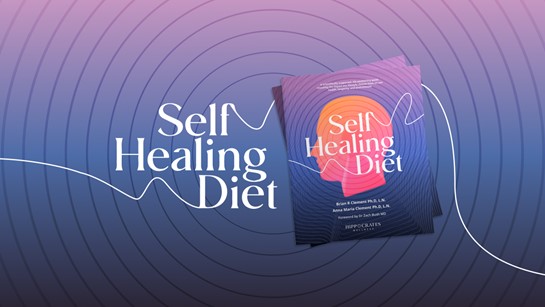 Self-Healing Diet Book Launch!
The ultimate, life-transforming weight-loss and wellness guide is available now! 
If you want to lose weight and live a happier, healthier, longer life, this is the only book for you.
Self-Healing Diet is a scientifically supported, life-awakening guide revealing the impact our lifestyle choices have on our health, longevity, and environment. 
About The Book
It's no secret that obesity has become the number one destroyer of humankind's health. For the first time in human history, being overweight kills more people than being underweight.
Self-Healing Diet ranks as the most practical, authoritative, accessible, and inspiring book ever published, covering the entire range of scientifically-proven weight loss techniques. All of the major diets ever proposed are contrasted and compared.
You will learn which diets work, which don't work, and most importantly, you will discover the reasons why.
Hippocrates Wellness Co-Directors Dr. Brian Clement and Dr. Anna Maria Clement reveal what decades of working with hundreds of thousands of clients have taught them about the art of self-healing and maintaining a healthy weight. For over 5-decades, their revolutionary Hippocrates Wellness center has stood as one of the world's premier wellness destinations for regaining health while losing weight and promoting self-healing.
Dr. Bernie Siegal, MD, states, "This book is a gift and a resource for anyone dealing with obesity. It truly guides you with both information and inspiration." 
Dr. Zach Bush hails this book in his Foreword for its deep dive "into the revelations of cause and effect of our divorce from Nature's nutrition."
And famed Cornell University nutritional biochemist Dr. T. Colin Campbell lauds the "considerable success" that the authors have achieved in treating weight issues among the thousands of guests who have walked through the transformative doors of Hippocrates Wellness.
In these pages, you discover how to use your mind, body, and lifestyle, working together synergistically to ensure lifelong weight health by utilizing dozens of easy-to-use tips for weight loss success. It's a spearheading book that presents a timely, safe, and effective corrective program for controlling weight using natural self-healing principles, educating people to heal themselves. 
This book provides a scientifically supported approach that helps you to lose and keep off excess weight, with the added value that you reduce your risk of disease, enhance your life quality, and lengthen your lifespan. What's more, by losing weight and keeping it off, using the Hippocrates success formula, this book reveals how you are making an essential contribution to addressing climate change and protecting planetary health.
Read the Self-Healing Diet now to live the full, healthy life that you deserve. Your future depends on it.