Banana "Nice Cream" with Date Carob Sauce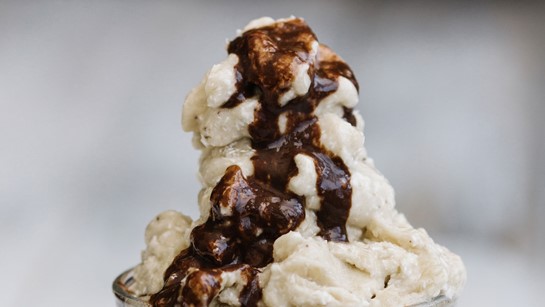 Ingredients
Ingredients for Nice Cream (Yield 4 cups):
6 bananas, peeled and frozen
Ingredients for Sauce (Yield 2 cups):
1 cup dates, soaked
One-half vanilla bean, chopped
4 black olives, pitted
3 tablespoons raw carob powder
½ teaspoon ground cinnamon
1 cup pure water
---
Method
Cream the frozen bananas with an auger juicer using the blank attachment. The result will be a creamy substance resembling soft serve ice cream.
To create your sauce, combine all of the ingredients and process them until they are smooth and creamy. You can adjust sauce consistency with pure water.
You can also flavor the sauce using mint, orange, raspberry, strawberry, mango, pineapple or fresh berries.
Everyone goes crazy at Raw Fest for our Banana "Nice Cream" with our simply perfect Date Carob Sauce. When you freeze bananas and then put them through an auger press juicer (using the blank attachment), you will create a tasty alternative to ice cream that is just as thick and creamy as the cow's milk-based variety!
Fancy a new recipe to try? Discover a variety of delicious vegan recipes including our "world famous" Hippocrates Green Juice recipe!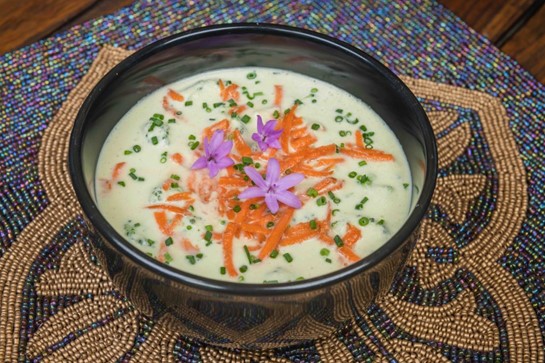 Raw Broccoli Better-Than-Cheddar Soup
Directions to make our Raw Broccoli Better-Than-Cheddar Soup. It is possible to heat food and still keep it raw, just remember 115 Degrees is your top temperature.