Raw Broccoli Better-Than-Cheddar Soup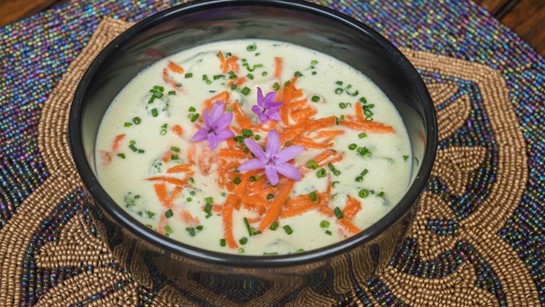 Ingredients
Mac & Cheez sauce (Make separately first):
Lemon juice ½ way to blade
2-3 small cloves garlic
¼ C. white onion
1 bag fresh or frozen corn
2 T. onion powder
1 ½ T. barley miso
1 C. macadamia nuts Blend all until creamy smooth
Soup base ingredients:
2 cups mac & cheez sauce
1 ½ -2 C. pine nuts
½ tsp. turmeric
Pinch kelp powder
Water (to desired texture)
36 ounces of raw brazil nut milk
2 ½ cups of broccoli stem
¼ cup sliced celery
¼ of a white onion
1 Tablespoon chickpea miso
½ Tablespoon braggs liquid aminos (optional)
---
Method
Blend all until creamy smooth.
Cut 1-2 heads of broccoli into small bite sized pieces.
Shred two large carrots.
Stir into the soup the shredded carrots and cut broccoli.
Heat in sauce pan using a candy thermometer to measure temperature.
Ladle into bowls and serve!
It is possible to heat food and still keep it raw, just remember 115 Degrees is your top temperature.
Fancy a new recipe to try? Discover a variety of delicious vegan recipes including our "world famous" Hippocrates Green Juice recipe!