Red Pepper Gazpacho (Raw Vegan)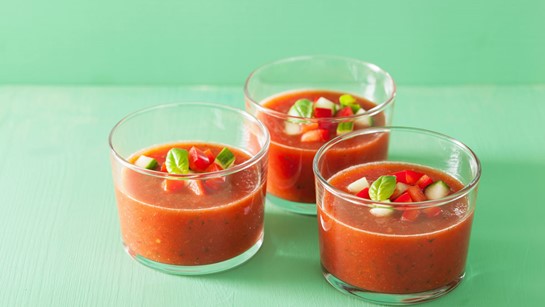 Ingredients
Yield: 6 Cups
Blend:
1 C. Lime Juice
4 oz. Cold Pressed Olive Oil
5 Cloves of Garlic
7 C. Red Pepper
1/2 tsp Cayenne
2 tbsp Frontier Pizza Seasoning
2 tbsp Kelp
Chop:
2 Cucumbers
6 Stalks of Celery
1 Red Onion
1/2 C. Green Olives
1/2 Bunch of Cilantro
1/4 Bunch of Parsley
---
Method
Combine blended ingredients with chopped ingredients and enjoy!
Add nama shoyu to taste if needed.
Do you love flavor? Do you love…garlic? You will love this recipe! Our Red Pepper Gazpacho is the perfect light soup for anytime of the year. Savory and packed with nutrients, blend it in the morning and simply pour into a thermos and bring to work.
Recipe courtesy of Chef Ken Blue at Hippocrates.
Fancy a new recipe to try? Discover a variety of delicious vegan recipes including our "world famous" Hippocrates Green Juice recipe!