Mushroom Nut Pâté (Vegan)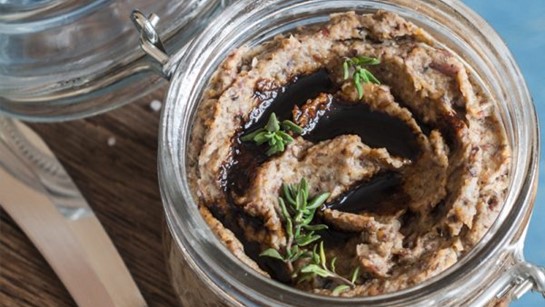 Ingredients
2 portobello mushrooms
1/2 C. almonds
1/4 C. walnuts
1/2 C. sunflower seeds
1/2 onion
1 sweet red pepper
1 carrot
1/4 bunch cilantro
1/2 tsp. cumin powder
1/2 tsp. allspice powder
1/4 tsp. turmeric powder
1/2 tsp. curry powder
2 garlic cloves
1 T. pizza spice
1 T. Bragg's Liquid Aminos
1/2 tsp. lemon juice
1/2 tsp. thyme
3 T. olive oil
---
Method
Combine all ingredients in a food processor, blending the nuts to form a paste.
Refrigerate until ready to serve.
Looking for a plant-based immune system boost? Vitamin D can be found in mushrooms! According to a study published in the Journal of Investigative Medicine in 2011 "Vitamin D can modulate the innate and adaptive immune responses." We hope you enjoy this healthy and delicious way to get your vitamins today.
This recipe is courtesy of Zainab Fisher, a professional chef who specializes in raw and vegan cuisine. She has served as the chef at The Raw Kitchen and as a guest chef for FOX29 WFLXD and the CBS 12, Heath and Wellness Expo.
For more information on Chef Zainab's culinary services: [email protected]
Fancy a new recipe to try? Discover a variety of delicious vegan recipes including our "world famous" Hippocrates Green Juice recipe!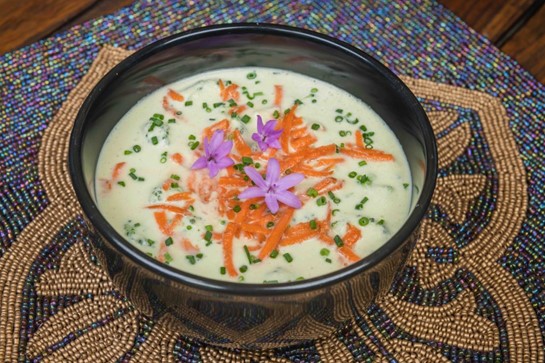 Raw Broccoli Better-Than-Cheddar Soup
Directions to make our Raw Broccoli Better-Than-Cheddar Soup. It is possible to heat food and still keep it raw, just remember 115 Degrees is your top temperature.