Mushroom Stuffed with Creamed Spinach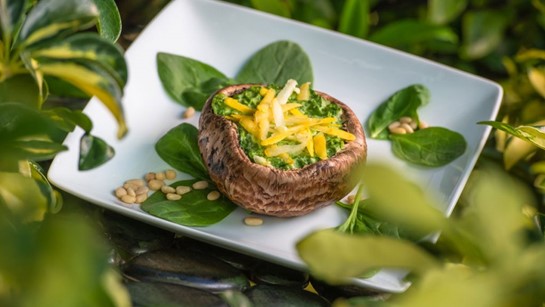 Ingredients
1 lb. spinach chopped in food processor with "s" blade
1 yellow squash shredded
For the sauce:
1.5 oz. lemon juice 5 oz. water
1.5 C. pine nuts (soaked and rinsed)
1.5 cloves garlic
1/2 T. kelp powder
1 pinch cayenne
1 Tsp. oregano
---
Method
Blend ingredients for sauce thoroughly until creamy.
Mix sauce in with spinach to desired texture.
Wipe off and destem 8-12 baby Portobello or 4-6 Portobello mushrooms.
Stuff or top mushrooms with spinach filling.
Top with shredded yellow squash and serve.
Filling, rich, creamy, and fully raw vegan. Enjoy our recipe for these sumptuous mushrooms as is, or warm right out of your dehydrator.
Fancy a new recipe to try? Discover a variety of delicious vegan recipes including our "world famous" Hippocrates Green Juice recipe!