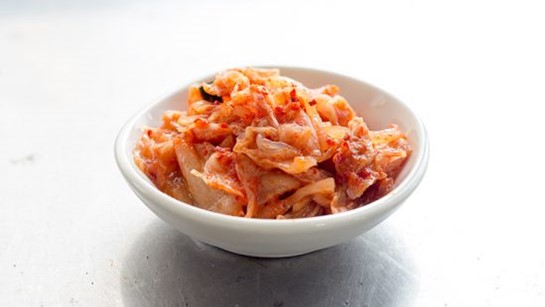 Ingredients
1 Head Green Cabbage, Finely Sliced
1 Carrot, Shredded
4 Large Red Peppers, Finely Chopped
9 Scallions, Sliced (Reserve Bottom of Scallions)
1 Fresh Hot Pepper, 1/2 Tsp Cayenne to taste
Kombuk Seaweed, Soaked, (As Needed)
2 Tsp. Chopped Ginger
3 Oz. Soaked Kombu Water
1 Apple, Cut in Half and Seeded
2 Cloves Garlic
Outer Cabbage Leaves (As Needed)
---
Method
Mix cabbage, carrot, peppers, and scallion in large bowl.
Put scallion bottoms, hot pepper or cayenne, garlic, ginger, and water in blender and liquefy.
Mix thoroughly with cabbage mixture.
Place half of the cabbage mixture in a ceramic or glass container. Press down firmly.
Place the apple in the center of the cabbage.
Place the remaining ½ if the shredded cabbage on top, always pressing it down firmly.
Cover the top of the cabbage with a layer of hydrated kombu seaweed.
On top of the Kombu, place a layer of cabbage leaves.
Place a heavy weight on top of the cabbage leaves, making sure that the entire container is covered and that no foreign matte can enter the mixture. The cabbage will begin to foam and bubble as a result of the fermentation process.
Leave out at room temperature.
Let stand for 3-5 days.
Discard the cabbage leaves, Kombu, and apple in the middle.
Place the mixture in a container for storage and refrigerate.
Kimchi is low in fat and high in fiber and even better when you make it yourself! To top it all off, an easy low fat dressing can be made by simply putting your kimchi in the blender and blending till smooth.
Fancy a new recipe to try? Discover a variety of delicious vegan recipes including our "world famous" Hippocrates Green Juice recipe!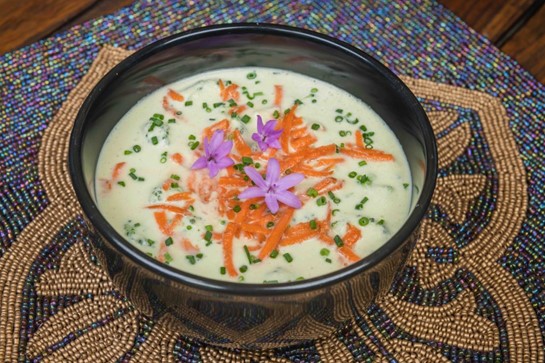 Raw Broccoli Better-Than-Cheddar Soup
Directions to make our Raw Broccoli Better-Than-Cheddar Soup. It is possible to heat food and still keep it raw, just remember 115 Degrees is your top temperature.