Holiday Pumpkin Pie (Raw Vegan)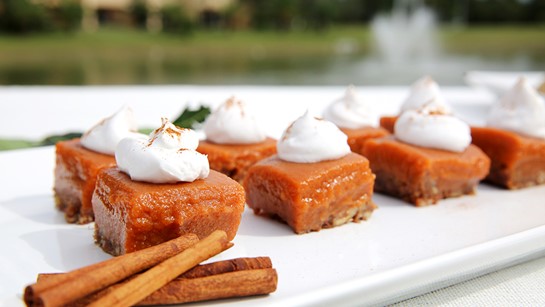 Ingredients
YIELD one 8-INCH PIE
For the filling:
3 cups pumpkin, thinly sliced
2 cups carrots, thinly sliced
1½ cups of water
¼ tbsp. pumpkin spice
½ tbsp. cinnamon
2 tbsp vanilla, alcohol free
½ tsp stevia
1 tbsp psyllium
For the crust:
3 cups of pecans, soaked, rinsed and dehydrated
1 tbsp cinnamon
1 tbsp mesquite powder
1 tbsp vanilla
---
Method
To make the filling: Add all ingredients except the psyllium in a blender and process until smooth.
Add in the psyllium and blend well.
To make the crust: Add all ingredients in a food processor and process until well combined.
Place mixture in an 8-inch pie mold pan, press down using your hands to form the crust.
Add the filling on top and refrigerate.
Always wanted to show your friends and family how amazing raw vegan can actually be? This recipe is a show stopper!
Recipe by: Renate Wallner – Sugar Free Raw Vegan Cuisine
Fancy a new recipe to try? Discover a variety of delicious vegan recipes including our "world famous" Hippocrates Green Juice recipe!