Pumpkin Seed Hummus (Raw Vegan)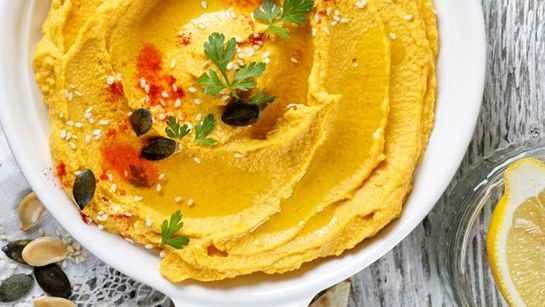 Ingredients
2 cups pumpkin seeds, soaked
1 cup chopped cucumber, optional
1 cup chopped zucchini, optional
2 cloves garlic
2 tablespoons ground cumin
1 tablespoon ground coriander seed
2 teaspoons kelp powder
3/4 cup water
2½ tablespoons fresh lemon juice, optional
2 tablespoons pumpkin seed oil
1 tablespoon Bragg Liquid Aminos or Nama Shoyu
1/4 teaspoon liquid stevia extract, optional
---
Method
In a strong blender, combine all ingredients. Blend well until very smooth. You will need to use a spatula or blender plunger to keep the mixture moving in the blender.
Season to taste and serve.
Optional Add-ins: ¼ teaspoon cayenne pepper, ½ cup chopped scallion, 1 cup chopped fresh herbs of your choice.
Alternate Version: Sunny Hummus. Substitute 2 cups sunflower seeds, soaked, for the pumpkin seeds. Substitute 2 tablespoons raw sesame tahini for the pumpkin seed oil.
Pumpkin Seed Hummus (Raw Vegan) recipe.
Fancy a new recipe to try? Discover a variety of delicious vegan recipes including our "world famous" Hippocrates Green Juice recipe!