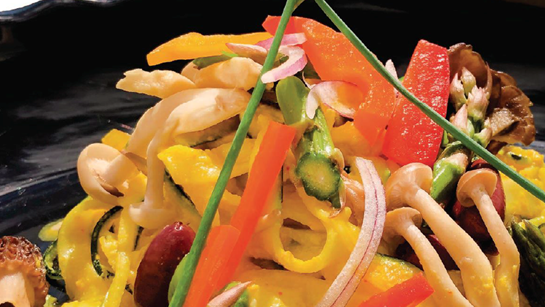 Ingredients
SAUCE INGREDIENTS
1 garlic clove
2 oz. lemon juice
2 yellow bell peppers
½ tsp. kelp powder
Pinch of cayenne
½ gram saffron (1/2 small jar Frontier brand)
1 cup pine nuts (soaked and rinsed)
---
Method
Blend all sauce ingredients in a high-speed blender.
Toss over zucchini – sliced on a mandolin to make fettuccine or spiralized to make noodles.
Then add following ingredients as desired: Sliced red bell peppers Pitted Kalamata olives Sliced red onion Asparagus cut on the bias Sliced mixed mushrooms lightly seasoned with Braggs Liquid Aminos and a pinch of garlic powder.
This vibrantly colored dish is satisfying to your taste buds and easy on your waist. In small doses, saffron has a subtle taste and aroma and pairs well with savory dishes. Saffron is touted as a powerful antioxidant to protect your cells against free radicals and oxidative stress.
Fancy a new recipe to try? Discover a variety of delicious vegan recipes including our "world famous" Hippocrates Green Juice recipe!