Cabbage and Peas Tarragon (Raw Vegan)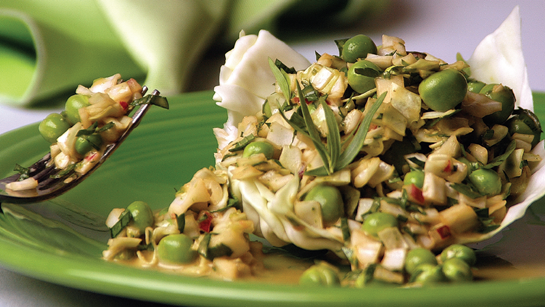 Ingredients
Yield: 4.5 cups
Ingredients:
2 cups fresh peas
2 cups small diced green and/or red cabbage
½ cup chopped fresh parsley
1/3 cup diced red onion
1 tablespoon dried tarragon
Dressing:
½ cup Hippocrates House Dressing, see below
1/4 cup water
Hippocrates House Dressing:
Blend at high speed:
1/4 cup plus 1 T. lemon juice
1/8 cup Braggs
1 T water
3 cloves garlic
2 t ground yellow mustard seeds
1/8 t cayenne
While blending slowly add:
3/4 cup of oil blend: Olive, Flax, Hemp
---
Method
In a mixing bowl, combine the peas, cabbage, parsley, onion and 1 tablespoon tarragon. Set aside.
In a blender, combine the remaining ingredients. Blend well and season to taste.
Combine the dressing and salad mixture. Allow to marinate at least 30 minutes before serving.
We know that cabbage and peas aren't likely your first thought when you visualize an amazing salad. We hope to prove you wrong with this fantastic dish!
Fancy a new recipe to try? Discover a variety of delicious vegan recipes including our "world famous" Hippocrates Green Juice recipe!