Creamy Coleslaw (Raw Vegan)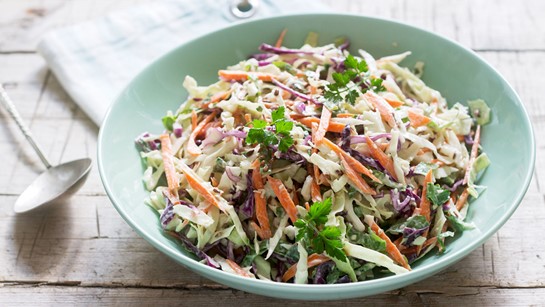 Ingredients
Ingredients:
4 cups thinly sliced green cabbage
½ cup thinly sliced red cabbage
½ cup shredded carrots
Dressing:
Blend until very creamy
¼ cup lemon juice 1 clove garlic
1 t celery seeds
½ t mustard powder
3 cups parsnips, chopped 1 cup sesame oil
¾ cup water
5 drops stevia, optional
---
Method
Toss everything together in a large mixing bowl. This makes a wonderful picnic salad.
Hello Summer! This delicious creamy coleslaw  is the perfect dish to bring to any bbq or picnic. Your friends won't even know it's dairy free (or raw vegan)!
Fancy a new recipe to try? Discover a variety of delicious vegan recipes including our "world famous" Hippocrates Green Juice recipe!