Creamy Pesto Sauce (Raw & Vegan)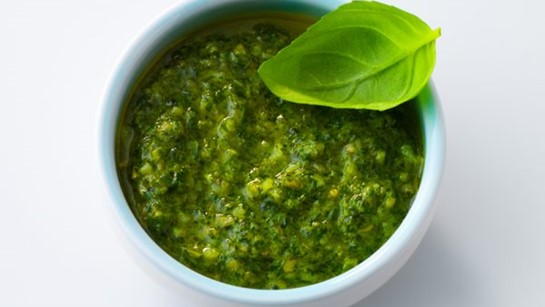 Ingredients
2 C. Dehydrated Pine Nuts
10 oz. Basil (stems removed)
1/2 Tbsp. Blended Garlic
1/2 Bunch Parsley
1/2 Tbsp. Kelp Powder
1/8 Tsp. Cayenne Pepper
6.5 oz. Cold Pressed Extra Virgin Olive Oil
2 oz. Lemon Juice
---
Method
In a food processor, combine basil, garlic, parsley, kelp powder, cayenne pepper, lemon juice, and olive oil.
Add pine nuts until creamy.
It's still summer! We love this season and the fresh outdoor potlucks and picnics that come with it. Enjoy this recipe for raw vegan pesto and toss with your zucchini noodles for that perfect pasta salad.
Fancy a new recipe to try? Discover a variety of delicious vegan recipes including our "world famous" Hippocrates Green Juice recipe!