Dijonaise Dressing (Raw Vegan)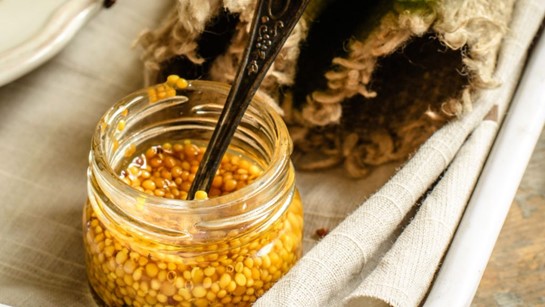 Ingredients
2 1/2 Ounces Lemon Juice
1 Small Clove Garlic
2 1/2 Tbsp. Ground Brown Mustard Seeds
1 Tsp Ground Yellow Mustard Seeds
1 Tsp Dried Thyme
2 Cups Sliced Parsnips
4 Ounces of Raw Sesame Oil
1/2 Tsp Kelp Powder
---
Method
Blend and add water if necessary to achieve desired consistency.
This recipe is great on a salad or to use as a dip for vegetables.
Note: Adding more yellow mustard seeds will make this recipe spicier and the brown mustard seeds will offer a more subtle mustard flavor if you would like to adjust to your taste.
Trying to incorporate more veggies into your diet? Sometimes the key is finding a great salad dressing.
We hope you enjoy our Dijonaise Dressing as featured in Chef Ken's upcoming cookbook!
Fancy a new recipe to try? Discover a variety of delicious vegan recipes including our "world famous" Hippocrates Green Juice recipe!