Mushroom Dip ( Raw Vegan)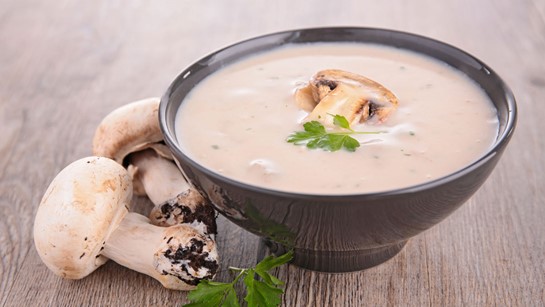 Ingredients
Yield: 4 servings
1 cup raw sunflower seeds, soaked 8 to 12 hours
1/2 cup raw walnuts, soaked 8 to 12 hours
3 cups mushrooms, coarsely chopped
1 carrot, chopped
1 zucchini, chopped
1 red bell pepper, chopped
1/2 cup chopped scallions
1/2 celery stalk, chopped
1/3 cup water, as needed
1 tablespoon cold-pressed olive oil
2 teaspoons Bragg Liquid Aminos (optional)
Italian seasoning (optional)
---
Method
Drain and rinse the sunflower seeds and walnuts, and transfer them to a food processor fitted with the S blade.
Add the mushrooms, carrot, zucchini, red bell pepper, scallions, celery, and water, and process until well combined.
Add the olive oil and Bragg Liquid Aminos, and process until smooth.
Add a small amount of water, if necessary, to facilitate blending and achieve the desired consistency.
Stir in Italian seasoning to taste, if desired.
Need to bring a dish to a potluck or friends house? This special-occasion recipe is versatile enough to satisfy most group events. Serve it with slices of your favorite vegetables or flax crackers.
This recipe was featured in Brian Clements book Lifeforce.
Fancy a new recipe to try? Discover a variety of delicious vegan recipes including our "world famous" Hippocrates Green Juice recipe!